Three days in Sydney
April 7th to 10th, we were in Sydney visiting a friend and working.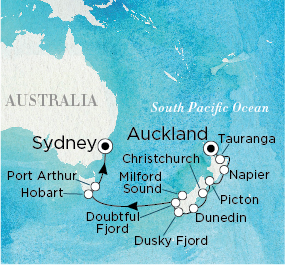 We arrived by ship, the end of the amazing New Zealand Grandeur 16-night cruise to which my wonderful wife invited me, so we spend the first night on board the Crystal Symphony (including an awesome breakfast in bed surprise), disembarking the next morning.
Then we checked in at our Hotel Shangri-La Sydney, with the best views from the business Horizon Club at the 30th floor, where we had breakfast and dinner, and from our room, which was on the 33rd floor, from where we could perfectly see the Sydney Opera House (including the night time fireworks) and the ANZAC bridge right across from our room.
We visited the Museum of Contemporary Art, The Rocks, had drinks at The Push, took a walk around Circle Quay, went to Bondi and Manly beaches, enjoyed award-winning Japanese food at Saké, and (maybe not award winning but deserving of the highest prise)Sushi Maru, but most importantly we visited my friend and coworker Thomas who, along with his cats and dog, has incredible views of Warraroon Reserve from his terrace… oh, yes, and we also worked a little. Let's hope we return soon!